DUAL ROLLER BLINDS in Melbourne
Australian Made Double Roller Blinds in Melbourne
If you need dual roller blinds that can effectively shade out the sun, enjoy complete privacy, and complement your interior style, then Brighter Blinds and Doors is the right choice for you. We offer a wide range of colors, textures, and designs to choose from, so you can find the perfect blinds to match your needs and preferences. Our Melbourne-based specialists can also design and install solutions that meet your specific requirements.
Our Australian-made double roller blinds provide unparalleled control over light and privacy, catering to the diverse needs of Melbourne homes. The dual-layer design features a sheer light-filtering layer that gently diffuses natural light, creating a soothing ambiance during the day. 
Types of Double Roller Blind Brackets
When selecting double roller blind brackets in your Melbourne home, considering the type of bracket is essential for a secure, functional, and aesthetically pleasing fit. Standard brackets are a versatile option, while slimline brackets offer a sleeker profile. Face-fix brackets are space-saving, while back-bar brackets provide optimal light control. Child safety brackets are essential for homes with young children. Our experienced team at Brighter Blinds and Doors is always ready to assist you in selecting the right brackets for your needs.
Key Features of Day-Night Roller Blinds in Melboure
Step 1: Choose Your Fabric: Double roller blinds offer a wide range of fabric options, from sheer and light-filtering to blackout and blockout. Consider the amount of light control you need in each room when selecting your fabric. For example, you may want a light-filtering fabric for living rooms and bedrooms, and a blackout fabric for bathrooms.
Step 2: Measure Your Windows: Accurately measuring your windows is crucial for ensuring a perfect fit for your double roller blinds. Measure the width and height of each window, including any window trim or recess. If you are unsure about how to measure your windows, you can always consult a professional.
Step 3: Select Your Bracket and Control System: There are two main types of brackets for double roller blinds: face-fix and back-fix. Face-fix brackets are mounted directly onto the window frame, while back-fix brackets are mounted behind the window frame. The type of bracket you choose will depend on the depth of your window recess.
You can also choose between manual and motorized control systems for your double roller blinds. Manual blinds are operated by hand, while motorized blinds can be controlled using a remote control or smartphone app.
Step 4: Choose Your Color and Style: Double roller blinds are available in a wide range of colors, patterns, and textures to match any décor. Consider the overall style of your home when selecting your color and style. For example, you may want a classic solid color for a traditional home, or a more modern pattern for a contemporary home.
Step 5: Place Your Order: Once you have made all of your selections, you can place your order for your custom-made double roller blinds. Be sure to provide all of the necessary measurements and specifications to ensure that your blinds are made to fit your windows perfectly.
Step 6: Installation: Once your blinds arrive, you can either install them yourself or have them professionally installed. If you choose to install them yourself, be sure to follow the instructions carefully. Professional installation is also a great option if you are not comfortable installing the blinds yourself.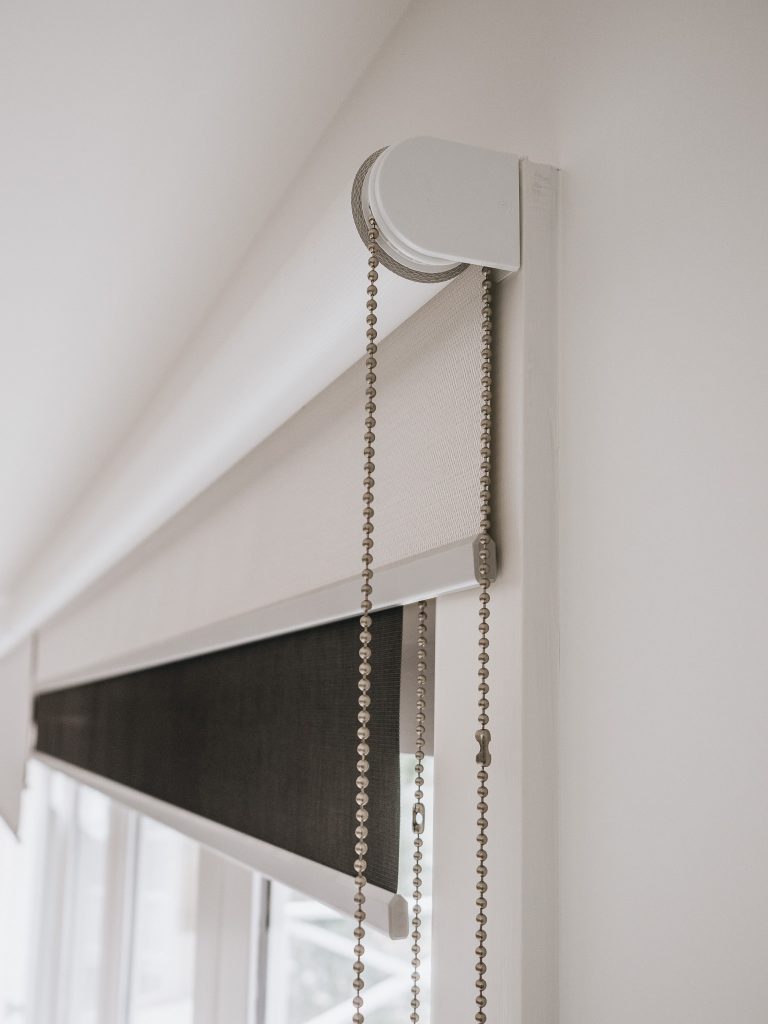 Key Features of Day-Night Roller Blinds
Exceptional Light Control: Our dual roller blinds feature two layers of fabric, allowing you to seamlessly transition from sheer light filtering to complete blackout. This makes them ideal for bedrooms, living rooms, and any space where you need flexible light control.
Unmatched Privacy: The blockout layer of our dual roller blinds provides complete privacy, ensuring a restful night's sleep and a sense of security in your home.
Stylish Enhancements: With a wide range of colors, textures, and patterns to choose from, our dual roller blinds complement any décor, adding a touch of elegance and sophistication to your living spaces.
Energy Efficiency: Dual roller blinds can significantly improve energy efficiency in your home. The light-filtering layer helps reduce heat gain during the summer, while the blockout layer helps retain heat in the winter, lowering your energy bills.
Effortless Operation: Our dual roller blinds are incredibly easy to operate, with both manual and motorized options available. Manual blinds feature a smooth, child-safe chain mechanism, while motorized blinds offer the convenience of remote control operation.
Child Safety a Priority: At Brighter Blinds and Doors, child safety is paramount. Our dual roller blinds come with a range of child safety features, including cord locks and safety brackets, ensuring a safe and worry-free environment for your little ones.
Best Double Roller Blinds in Melbourne
Dual roller blinds are a popular and practical solution for homeowners and business owners in Melbourne, Australia who want both light control and privacy in their space. At Brighter Blinds and Doors, we offer a wide range of roller blinds including dual roller blinds that can be customized to your specific needs and preferences.
Our dual roller blinds feature two separate layers of fabric that can be adjusted independently of each other. This means you can choose to have one layer for light filtering and the other for privacy and blockout, giving you complete control over the amount of light and privacy in your space.
Our dual roller blinds are made from high-quality materials that are designed to last. We offer a range of colours and textures to choose from, so you can find the perfect match for your decor style. Plus, our dual roller blinds are easy to operate, with a simple chain mechanism that makes adjusting the blinds quick and easy.
In addition to their practical benefits, dual roller blinds can also add value to your property. They are a popular choice for home buyers and renters alike, and can make your space feel more modern and stylish. Plus, with our competitive pricing and excellent customer service, you can trust Brighter Blinds and Doors to provide you with the best dual roller blinds in Melbourne. Contact us today to learn more and schedule your free consultation!
Learn More About Our Double Roller Blinds Today
If you're after dual roller blinds, you can rely on the team at Brighter blinds and doors to deliver a high-quality solution that ticks all the boxes. Give us a call on 0439 566 569 to learn more, or enquire online to get a free quote from our team.