Luxury & Stylish Roller Blinds in Melbourne
install Luxury Roller blinds in Melbourne
Brighter Blinds and Doors offers a wide range of high-quality roller blinds in Melbourne, available in a variety of colours, textures, and fabrics, including blockout, light-filtering, and sunscreen options. Our roller blinds are made from durable materials such as polyester, PVC, vinyl, screen, and blockout fabric, and offer excellent light control, privacy, energy efficiency, and ease of cleaning. We also provide competitive pricing and excellent customer service, as well as a free consultation service to help you choose the right roller blinds for your needs.
In addition to their practical benefits, roller blinds can also add value to your property. They are a popular choice for home buyers and renters alike and can make your space feel more modern and stylish. Plus, with our competitive pricing and excellent customer service, you can trust Brighter Blinds and Doors to provide you with the best roller blinds in Australia.
Contact us today to learn more and to schedule your free consultation! We offer a wide range of roller blind materials to suit any budget and style, and our experienced team can help you choose the perfect roller blinds for your home or office.
Dual Roller Blinds are a versatile window treatment solution that offers two separate fabric layers on a single roller mechanism. This innovative design allows you to switch between sheer and blackout fabrics, providing exceptional control over light, privacy, and aesthetics in your space. With our services, you can enjoy the benefits of dual roller blinds, tailored to your specific needs, enhancing both style and functionality in your home or office.. Keep the sun at bay and enjoy complete privacy in your home or business with the dual roller blinds available from Brighter blinds and doors.
Sunscreen Roller Blinds, part of our comprehensive service offerings, are a sophisticated window treatment choice designed to filter sunlight while maintaining your privacy. These blinds are crafted from specially engineered fabrics that allow natural light to gently diffuse into your space, reducing glare and UV radiation. Our service ensures that you can enjoy the benefits of Sunscreen Roller Blinds customized to your needs, enhancing comfort and energy efficiency in your home or office while protecting your furnishings from harmful sun damage.If you value your privacy yet still want to enjoy natural light, the team at Brighter blinds and doors can install sunscreen roller blinds that meet your needs.
Blockout Roller Blinds, a key component of our service offerings, are a practical window treatment solution designed to effectively block out light and provide complete privacy. Crafted from high-quality, light-blocking materials, these blinds are perfect for bedrooms, media rooms, or any space where light control and privacy are paramount. Our service ensures that you can enjoy the benefits of Blockout Roller Blinds tailored to your specific needs, allowing you to create a dark, tranquil atmosphere for a restful night's sleep or an ideal environment for home theater experiences. At Brighter Blinds And Doors, we offer blackout blinds in Melbourne that are the perfect choice for property owners who are looking to enjoy complete darkness and privacy.
Our most requested window covering, roller blinds offer multiple options to suit every window and every environment. With roller blinds, you're in charge. Would you prefer a chain-driven operation? Or, for the ultimate in luxury & style, why not complete your blind upgrade by motorising your Roller blinds with Alpha rechargeable motors. Cost-effective and automated to link to your home hub, this is the pièce de resistance in versatility and programming features. You can also personalise your window blind with one of our sleek cassettes which are fitted to the top of your blind, discreetly housing the operating mechanism, bringing your vision to life and modernising your home. What about the homeowner who needs to be more cost-effective? DIY could be the solution, and we are here to provide every solution to put you at ease. Your options are endless.
Stunning energy-saving  fabric designs
U.V sunscreen fabrics
Full blockout fabrics
Light filtering fabrics
Day and Night dual purpose options
Linked blinds – No window is too wide with a link system. You can link multiple blinds alongside one another and reduce the gap to just 19mm
Cordless motorization via remote – easy setup, easy connection, whisper-quiet and efficient
Multiple colours and shapes to choose from with bottom bars and chains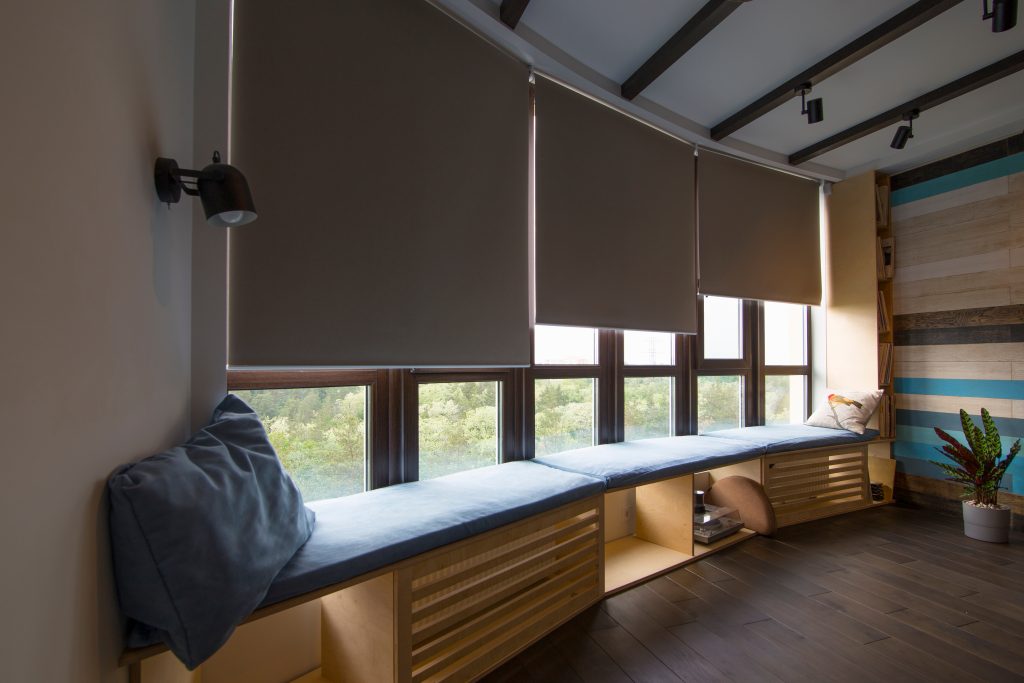 Our roller blind systems use quality, locally sourced components, aluminium and fabrics.
Depending on blind sizes and fabric weights and specifications we will automatically choose the best tubes and components that will ensure the quality and life span of your blinds.
Because we manufacture all or roller blinds here on the Melbourne, we always have stock available to service guarantees or should you need a repair in the future.
Roller Blind Materials We Use
Polyester: Polyester is a popular material for roller blinds because it is durable, easy to clean, and affordable. It is also available in a wide range of colors and textures.
PVC: PVC roller blinds are a good option for areas that are exposed to moisture, such as kitchens and bathrooms. They are also very durable and easy to clean.
Vinyl: Vinyl roller blinds are similar to PVC roller blinds but are typically less expensive. They are also a good option for areas that are exposed to moisture.
Screen: Screen roller blinds are a good option for rooms where you want to block out the glare of the sun without blocking out all of the natural light. They are also a good option for privacy.
Blockout: Blockout roller blinds are a good option for rooms where you must completely block out the light, such as bedrooms and nurseries. They are also a good option for energy efficiency.
Roller Blind Features & Benefits
Light control: Roller blinds offer excellent light control, allowing you to adjust the amount of light that enters your room to suit your needs.
Privacy: Roller blinds can also provide privacy, making them a good option for rooms such as bedrooms and bathrooms.
Energy efficiency: Roller blinds can help to improve energy efficiency by blocking out the heat from the sun in summer and keeping in the warmth in winter.
Durability: Roller blinds are made from durable materials that can withstand everyday use.
Easy to clean: Roller blinds are easy to clean and maintain.
Affordable: Roller blinds are a relatively affordable window treatment option.